June 7, 2019 – Hutchinson representatives were on hand to celebrate the official handover of the first five Mack® Granite® model-based M917A3 HDTs to the U.S. Army during a ceremony at the Mack Customer Center in Allentown PA earlier this year.  The five vehicles will undergo 40 weeks of production verification testing at the U.S. Army's Aberdeen test center in Maryland.  The Army first solicited bids for the HDT program in 2017, seeking to develop the next generation of HDTs with increased occupant protection levels, higher payload and improved mobility.  Mack Defense was awarded the contract in May 2018 and will produce armor-capable or armored HDTs through May 2025.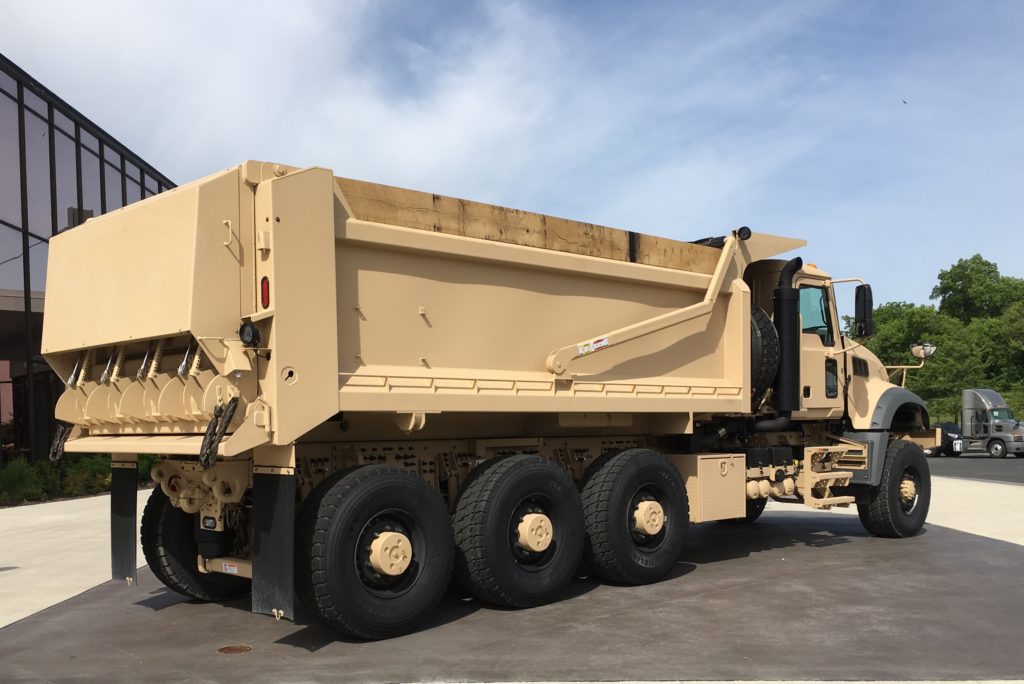 Hutchinson Industries Inc. provided complete wheel assemblies, beadlocks and thermal hub covers for the Mack HDT. Hutchinson optimizes the performance of each component to meet the demands of tomorrow's lighter and more survivable military vehicles.
The Mack Defense M917A3 HDT is based on the civilian Mack Granite model, one of the top-selling construction trucks in North America. To meet the demanding needs of the U.S. Army, Mack Defense engineers added heavier-duty rear axles, all-wheel drive, and increased suspension ride height. The new HDTs will help increase the U.S. Army's operational effectiveness and readiness while supporting mobility, counter-mobility, survivability and sustainment operations for the Joint Force.
About Hutchinson Industries Inc.
Hutchinson Industries, Inc. is the premier manufacturer of enhanced mobility components for vehicles within the defense, security and commercial industries. Our product offerings include runflats for all size vehicles and performance specifications, tire beadlocks, tactical aluminum wheels with integrated CTIS, tracked vehicle road wheels, Tire Saver Shield™ to prevent sidewall punctures, and Safetank light-weight self-sealing fuel tanks.  Hutchinson Industries, Inc. is headquartered in Trenton, NJ, with a subsidiary in Buffalo, NY.
About Mack Defense
Mack Defense, a wholly-owned subsidiary of Mack Trucks, is responsible for the sale of heavy-duty trucks to federal- and ministerial-level customers globally.  For more information, please visit www.mackdefense.com.  Mack Defense, LLC, is part of the Volvo Group, one of the world's leading manufacturers of trucks, buses, construction equipment, and marine and industrial engines.