May 9, 2019 – Hutchinson Industries, Inc. is scheduled to exhibit at SOFIC (The Special Operations Forces Industry Conference) at the Tampa Convention Center in Tampa Florida, May 21 — 23, 2019. Our exhibit can be found at booth #752.
Hutchinson's innovative products include; Runflats, lightweight aluminum wheels, Safetank self-sealing fuel tanks, and Thermal Signature Reduction Products.
Hutchinson protects some of the most important vehicles in the world. Troop carriers, fuel delivery trucks, public transportation, security, and off-road vehicles use our products to get through the harshest of situations.  When the world has mission-critical vehicles, Hutchinson is the name they turn to. Hutchinson provides innovative products and proactive support that exceeds our customers' expectations and meets the demands of tomorrow's lighter and more survivable vehicles.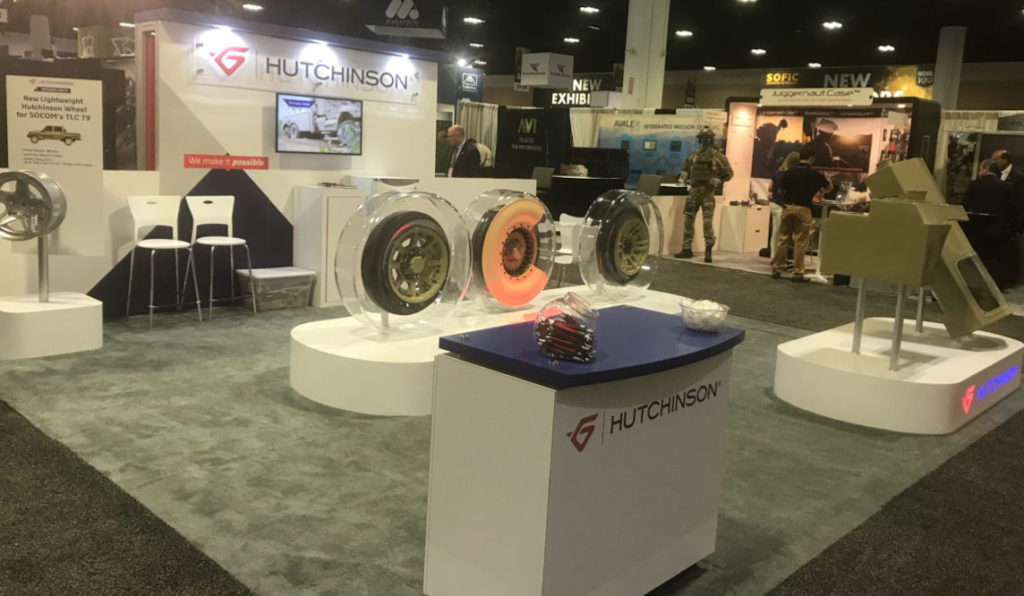 We encourage expo attendees to visit our exhibit and learn more about the products listed below:
Runflats – In the event of a flat tire, Runflats allow soldiers to ensure mobility and safety in all terrain and combat situations. Enables soldiers to maintain mobility to complete the mission and return the crew safely to base.
Lightweight aluminum wheels – Lightweight aluminum wheel has proven performance in the toughest environments, both off-road and in combat. High-load aluminum wheels allow dramatic weight reduction over steel wheels.
Safetank self-sealing fuel tanks – Provides self-sealing protection for military and security vehicle fuel tanks. Fuel tanks instantly seal holes when punctured.
Exhibit Hall Hours:
Tuesday, May 21st 9:00 am – 6:00 pm
Wednesday, May 22nd 9:00 am – 4:30 pm
Thursday, May 23rd 9:00 am – 1:30 pm
Venue:
Tampa Convention Center
333 South Franklin Street
Tampa Florida 33602
About Hutchinson Industries Inc.
Hutchinson Industries Inc. is the premier manufacturer of engineered mobility solutions for wheeled and tracked combat, security, off-road, and commercial/industrial vehicles.  Hutchinson's products include; Runflats, lightweight aluminum wheels, road wheels and track, Tire Saver Shield™, Safetank self-sealing fuel tanks and Thermal Signature Reduction Products.
About SOFIC
The Special Operations Forces Industry Conference (SOFIC) is the premier conference for the SOF community to interact with industry and to collaborate on the challenges, initiatives, and way-ahead in delivering the most cutting-edge capabilities into the hands of SOF operators.
SOFIC provides educational sessions, demonstrations, interaction with exhibitors, and many networking opportunities during the event. SOFIC is the single most important opportunity for developing, nurturing, and exercising the growing network across industry, government, academia, and international partners. By leveraging the depth, breadth, and diversity of this network, the SOF community can boost its velocity, multiply its iterations, and increase the variety of capabilities to meet the changing demands of its operators. Highlights of SOFIC include: keynote speakers, led by U.S. Special Forces Command and government experts, Senior Industry Executive Forums, panel discussions, and educational sessions, exhibits and demonstrations, the USSOCOM Marketplace, Innovation Showcase, and Operation SOFTalk.