SecureBand™ Wheel Safety System
Maintain vehicle control and tire security after a blowout or puncture with Hutchinson's lightweight, flexible wheel safety system – SecureBand™.
The Hutchinson SecureBand™ is an effective solution to rapid tire deflation due to punctures and blow-outs.  SecureBand™ provides drivers the security and peace of mind to help prevent roll-overs and maintain control of their vehicle in the event of a rapid tire deflation regardless of the speed or road surface.
SecureBand™ easily installs over the wheel well to help prevent the tire from coming off during a blowout or puncture, allowing the driver to maintain control of the vehicle and travel to a safe stop.  It is an easy and affordable safety prevention.
What happens in a blowout?
When the air inside a tire rapidly deflates, the pressure is no longer sufficient to hold the tire in place on the wheel causing the wheel to contact the road surface and the tire to fall off and shred. 
At high speeds, rapid tire deflation can be catastrophic, or even fatal to the driver and vehicle occupants.  The Hutchinson Secureband helps the driver maintain vehicle control and travel to a safe stop.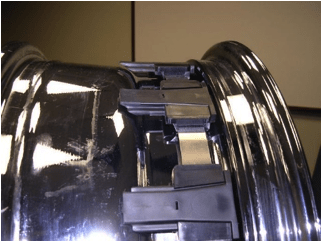 Easily installs over the wheel well to prevent the tire from coming off during a blowout or puncture, allowing driver to maintain control of the vehicle and travel to a safe stop
Helps prevent roll-overs and allows driver to maintain conrol of the vehicle and travel to a safe stop
Easy and affordable safety prevention 
Proven performance: in use with law enforcement and emergency services for over a decade on thousands of vehicles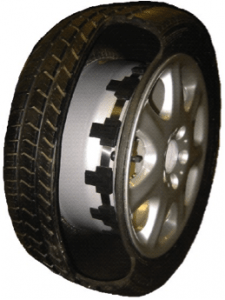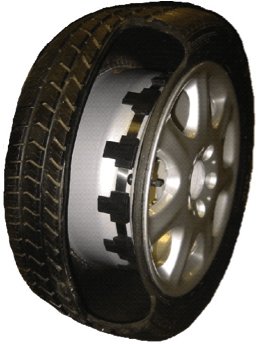 how the SecureBand compares to others
1-piece design vs. multi-piece design
User-friendly installation compared to other well fillers
Lightweight, flexible design for easy installation
No wheel damage during installation as seen with rigid designs
No impact on wheel balancing and driving performance
Adjustable length and width to fit all wheel profiles
Installed to a specified torque to assure proper fitment and performance