Rock Monster Dual Internal Beadlock System
THE SAME TECHNOLOGY USED BY EVERY U.S. MILITARY VEHICLE WITH A BEADLOCK
To increase the mobility of a wheeled vehicle operating in soft terrains such as sand, mud or snow, it is necessary to increase the footprint of the tire. This is achieved by decreasing the tires' air pressure.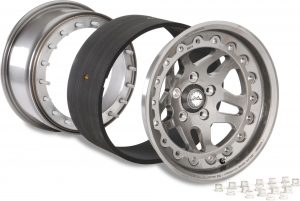 How does internal double beadlock work?
The Rock Monster internal double beadlock system holds the tire bead securely against the rim, without breaking the bead seal or slipping during use.
The beadlock insert helps maintain the tire bead seal even at low air pressures, allowing you to get a wider range of performance from a single set of tires.
Wheel with Hutchinson beadlock
Dual internal beadlock intact after tire blowout
Reduce tire pressure

Increase traction and braking and improve steering control on rocks, sand, snow, dirt, and mud

Enable tires to flex over uneven surfaces rather than slide off them

Prevent tires from sinking into the sand, mud and snow or spinning on the wheel

Prevent dangerous rollovers caused by loss of bead seating
NOT ALL BEADLOCKS ARE CREATED EQUAL!
Hutchinson's Dual Internal Beadlock System
Does not negatively affect tire life or performance
Keeps out foreign materials like dirt, sand, and water
No special tools required
Accommodates standard air valves and OEM TPMS
DOT-Approved
Street legal
Hardware protected from damage inside the wheel
Locks both tire beads securely to the rim
Air down less than 5 psi without risk of losing a tire bead
Tire manufacturers honor warranty
Does not account for varied bead thickness
May burp air out of the backside of wheel
Applies uneven torsional stresses to tire sidewall
Cannot accommodate TPMS
Not DOT-Approved
Not street legal
External ring bolts put hardware at risk for damage
Bead seals on wrong side of tire
Unable to air down below 10 PSI in most cases
Voids tire manufacturers warranty
As a result, vehicle capabilities are enhanced by:
Increased traction and braking
Improved steering control
Minimal chance of rollover caused by the unseating of the tire
Preventing foreign materials from entering the tire.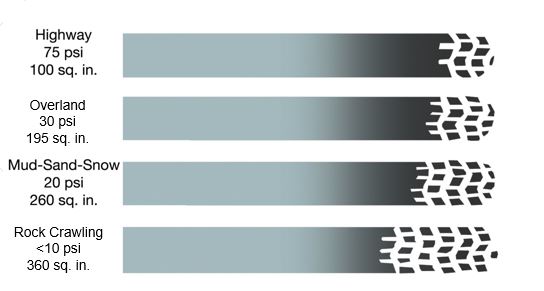 Tim Odell of Vice Unlimited talks about the benefits of Hutchinson DOT approved internal double beadlock wheels.
Vehicle photo credit: Andy Perry IG @benkaptured
Benefits of Rock Monster Wheels:
DOT-T Approved Internal Double Beadlock Wheel
Street Legal
Military Pedigree – engineered for civilian vehicles
TRUE Internal Double Beadlock Wheel
Rubber beadlock inserts evenly to "Lock" both tire beads
Two-Piece Wheel Assembly
No mounting machines required