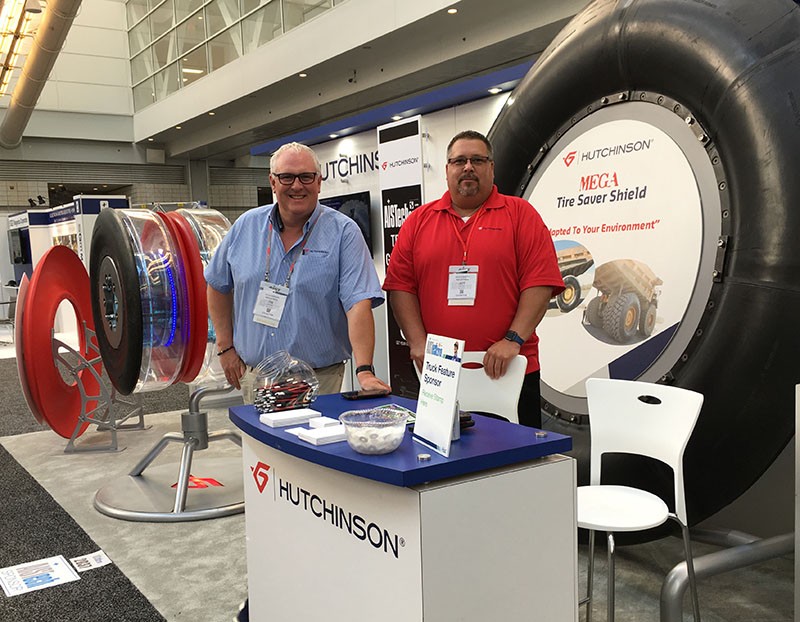 Hutchinson Industries, Inc. is scheduled to exhibit at the AISTech Iron & Steel Technology Conference and Exposition in Pittsburgh Pennsylvania, May 6 — 8, 2019. Their exhibit can be found at booth #2037.
Hutchinson's innovative products on display include; Tire Saver Shield™ and the Dual Tire Saver Shield.
Stop by booth #2037 and speak to a representative about the challenges you face operating lift equipment in the iron and steel industry, and the solutions Hutchinson can provide.
Representatives on hand to answer questions, as well as to conduct presentations about Hutchinson products, include; Tim Norris, Sr. Account Manager/Business Development ([email protected], 609-256-0649) and Jeffrey Pettit, Business Development/Account Manager ([email protected], 609-802-3932).
Life Insurance For Your Tires
Hutchinson's Tire Saver Shield™ is constructed for use in extreme operating conditions. The composition of Tire Saver Shield™ made from reinforced elastomeric material, ensures maximum protection from hazards that can compromise the tires vulnerable sidewall. This barrier provides penetration resistance, especially against sharp-edged foreign objects.
Benefits of using Hutchinson's Tire Saver Shield™
Suitable for underground and open-pit mining, construction, oil and gas, quarry and demolition applications
Protects the tire sidewall from penetration of foreign objects
Mirrors the sidewall profile at varied tire operating pressures
Has no negative effects on the operating temperature of the tire
Excellent and affordable alternative to tire chains
Compatible with most wheel manufactures and available in a broad range of sizes
Safe, secure, and simple to install and maintain
Those unable to visit the booth can contact Hutchinson for more information or a quote at [email protected].  Booth appointments can be scheduled in advance by contacting Michele Christian, via email, [email protected] or by phone, 609-858-5691.
Exhibit Hall Hours:
Monday, May 6th 9:00 am – 6:00 pm
Tuesday, May 7th 9:30 am – 6:00 pm
Wednesday, May 8th 12:00 pm – 4:00 pm
Venue:
David L. Lawrence Convention Center
1000 Fort Duquesne Blvd
Pittsburgh, PA 15222
About Hutchinson Industries Inc.
Hutchinson Industries Inc. is the premier manufacturer of engineered mobility solutions for wheeled and tracked combat, security, off-road, and commercial/industrial vehicles.  Hutchinson's products include; Runflats, lightweight aluminum wheels, road wheels and track, Tire Saver Shield™ and Safetank self-sealing fuel tanks.
About AISTech – Association for Iron & Steel Technology
The Association for Iron & Steel Technology was established with a goal of advancing the technical development, production, processing and application of iron and steel.  AIST is committed to presenting technical meetings, conferences, exhibits, and publications to better serve those involved in the iron and steel community, including steel manufacturers, suppliers, consumers and academics. AISTech is now the largest annual iron- and steel-related technology conference in the world.