Hutchinson and DST (formerly Diehl) have partnered to become the world's leader in track pads, track and road wheel design.
The innovative DST TRACK PAD has been developed for maximum durability in the widest range of operational conditions, climate zones and soil types. Incorporating DST's high-performance rubber compound (HP-F), these pads are particularly suitable for highly mobile forces and vehicles operating in both urban and wilderness environments.
DST Track-Pads are the first design that fulfills conflicting requirements such as high stability in rocky terrain and fast road speed. A variety of rubber mixtures are available that can be tailored to suit specific terrain conditions and mission criteria.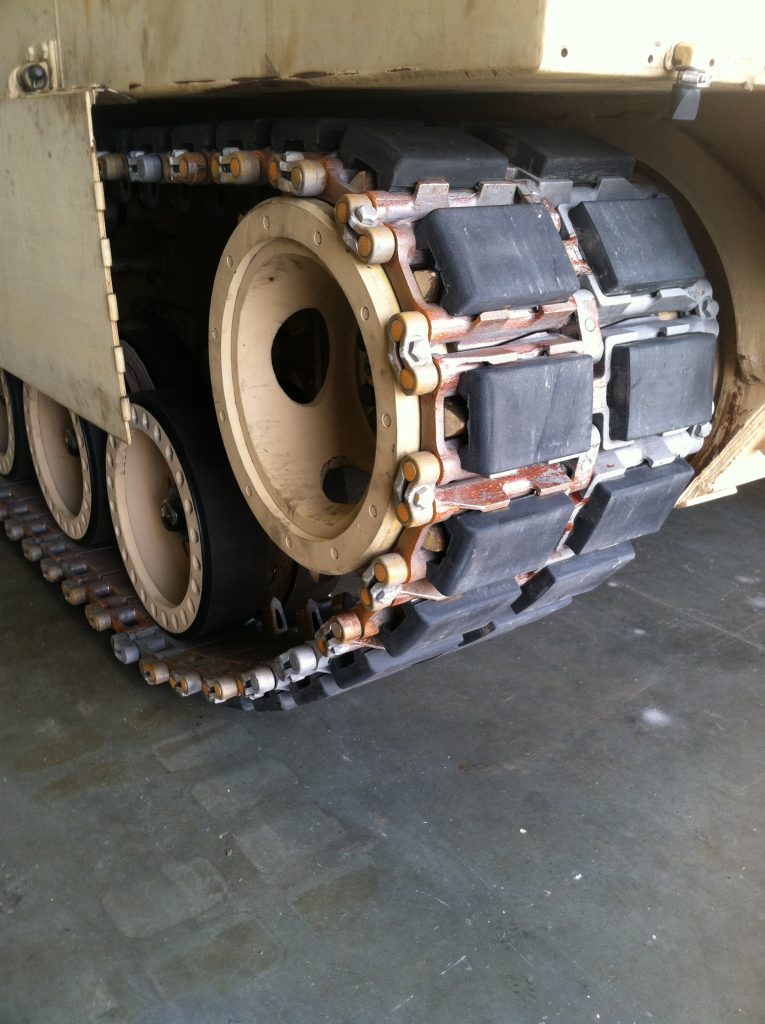 THE QUICK-FIT® SYSTEM FOR TRACK-PADS AND TRACTION-AIDS
The patented Quick-Fit® system incorporates a bayonet principle for a quick and easy exchangeability of pads. Bolts and screws are not required, and the replacement of individual components can be carried out by a single engineer in the field.
This system also enables Pads to be replaced with traction-aids which greatly increase traction for additional mobility in difficult terrain.
Hutchinson's advanced rubber compound allows for improved heat resistance and more than doubles track pad life. This results in less downtime in the field and lower maintenance and replacement costs.
Increased OPTEMPO and Cost Reductions
Less downtime in the field and motor pool breaking track.
More time moving, training and fighting.
M-1 tank track shoe replacement is the #1 cost for vehicle spares in the Army: $78 million in 2015.
Highly durable track will cut life cycle costs in half; saving tens of millions for the Army and unit budgets.
THE LIGHTWEIGHT SOLUTION FOR INCREASED PAYLOAD
DLT LIGHTWEIGHT TRACKS incorporate maximum efficiency in an innovative design. The weight saved using these tracks enables extra capabilities in other parts of the vehicle in important features such as crew and vehicle protection.
Optimised design using state-of-the-art technologies for maximum strength using less material
Crank-shaped outline for a consistent wheel path and smooth, low-vibration running
Skeleton steel track body for an unrivalled weight/performance ratio