Hutchinson Industries, Inc. is scheduled to exhibit at the AUSA Annual Meeting and Exposition at the Walter E. Washington Convention Center in Washington, DC October 14 — 16, 2019.  Our exhibit can be found at booth #1643.
Hutchinson Industries Inc. is the premier manufacturer of engineered mobility solutions for wheeled and tracked combat, security, off-road, and commercial/industrial vehicles.  Our booth will display Runflats, lightweight aluminum wheels, road wheels and track and Safetank self-sealing fuel tanks.
Troop carriers, fuel delivery trucks, public transportation, security, and off-road vehicles use our products to get through the harshest of situations.  When the world has mission-critical vehicles, Hutchinson is the name they turn to. Hutchinson provides innovative products and proactive support that exceeds our customers' expectations and meets the demands of tomorrow's lighter and more survivable vehicles.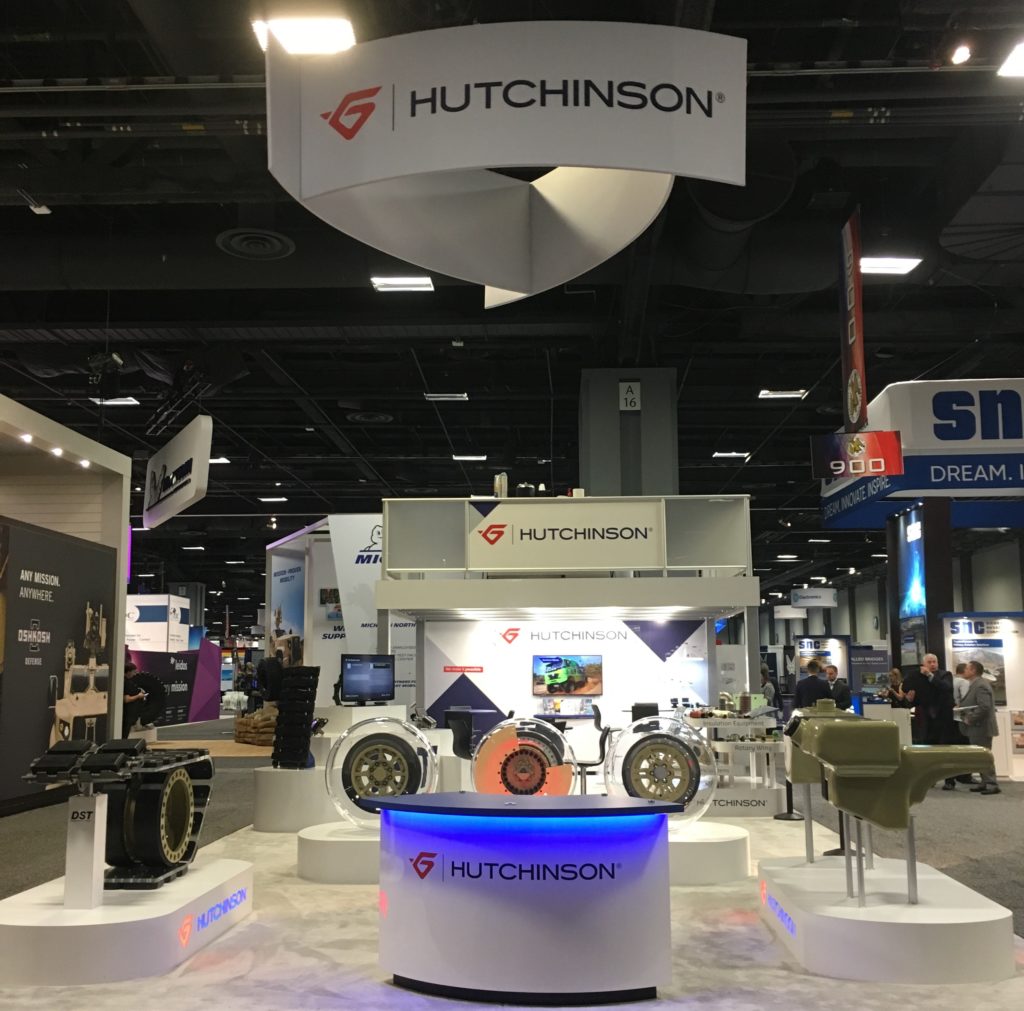 Representatives will be available to answer questions as well as conduct demonstrations and presentations about our products and discuss the capability improvements and advancements made on the products below:
Runflats – In the event of a flat tire, Runflats allow soldiers to ensure mobility and safety in all terrain and combat situations. Enables soldiers to maintain mobility to complete the mission and return the crew safely to base.
Lightweight aluminum wheels – Lightweight aluminum wheel has proven performance in the toughest environments, both off-road and in combat. High-load aluminum wheels allow dramatic weight reduction over steel wheels.
Road wheels and track – Provides a performance increase, life cycle cost reduction and increased OPTEMPO. Road wheels, track and track pads allow for less downtime in the field and lower maintenance and replacement costs.
Safetank self-sealing fuel tanks – Provides self-sealing protection for military and security vehicle fuel tanks. Fuel tanks instantly seal holes when punctured on impact.
Booth appointments can be scheduled in advance by contacting; Michele Christian
[email protected] 609-858-5691 or Jenn Eagleton [email protected] 609-858-5665
Exhibit Hall Hours:
Monday, October 14th 9:00 am – 5:00 pm
Tuesday, October 15th 9:00 am – 5:00 pm
Wednesday, October 16th 9:00 am – 5:00 pm
Venue:
Walter E. Washington Convention Center
801 Mt. Vernon Pl NW
Washington, D.C. 20001
About Hutchinson Industries Inc.
Hutchinson Industries, Inc. is the premier manufacturer of enhanced mobility components for vehicles within the defense, security and commercial industries. Our product offerings include runflats for all size vehicles and performance specifications, tire beadlocks, tactical aluminum wheels with integrated CTIS, tracked vehicle road wheels, steel track, segmented composite rubber track, Tire Saver Shield™ to prevent sidewall punctures, and Safetank light-weight self-sealing fuel tanks.  Hutchinson specializes in matching the appropriate tire, wheel and mobility device to optimize the performance of each component and meet the mobility needs of the customer. Hutchinson Industries, Inc. is headquartered in Trenton, NJ, with a subsidiary in Buffalo, NY.
About AUSA
The Association of the United States Army's Annual Meeting is the largest landpower exposition and professional development forum in North America. The Annual Meeting is designed to deliver the Army's message by highlighting the capabilities of organizations and presenting a wide range of industry products and services. AUSA accomplishes this task throughout the entire event by providing informative and relevant presentations on the State-of-the-Army, panel discussions and seminars on pertinent military and national security subjects, and a variety of valuable networking events available to all that attend. AUSA's Annual Meeting includes the total Army – Regular Army, Guard, Reserve, civilians, and family members. It is one of the three key communication platforms employed by the Army to educate and inform government, academic, civic, and veteran advocates and leadership on Army priorities and issues impacting today's Army.